Women's Bank Walk 2018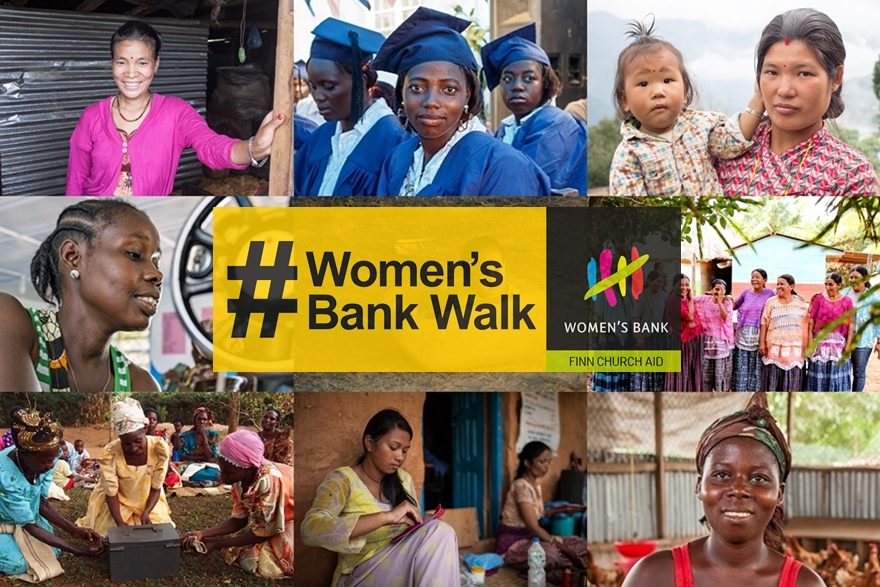 The 9th Women's Bank Walk brought together thousands of people across Finland and Europe on 9th September 2018 to give their support for women in developing countries. These fun events were organised by volunteers with the shared aim to raise funds to improve women's livelihood and entrepreneurship in developing countries through Women's Bank projects. In 2019 we will celebrate the 10 year anniversary of the Women's Bank Walk!

The biggest charity walk in Finland, the Women's Bank Walk, was organized for the ninth time in 2018. This year, 75 events across Europe brought in more than 82 000 euros in support of a better future for women in developing countries. Please join us in making next year just as great! Your help will really make a big difference.
Below you can find the list of cities where Women's Bank Walk events were be held in 2018.
Register and donate here (in Finnish) > >
Finland
Alahärmä, Asikkala, Espoo (Haukilahti), Espoo (Leppävaara), Espoo (Suvela), Haapavesi, Helsinki, Hämeenlinna, Imatra, Joensuu, Jyväskylä, Järvenpää, Kalajoki, Kauniainen, Kemi, Kirkkonummi, Kiuruvesi, Kokemäki, Kotka, Kuopio, Kälviä, Lahti, Lieksa, Loviisa, Luopioinen, Nivala, Nokia, Nurmes, Oulu, Pieksämäki, Pori, Pudasjärvi, Pälkäne, Rovaniemi, Saarijärvi, Sastamala, Savonlinna, Seinäjoki, Sipoo, Suonenjoki, Tampere, Turku, Utsjoki, Vaasa, Valkeakoski, Valtimo, Vantaa (Hakunila), Vantaa (Korso), Vantaa (Vantaankoski), Varkaus, Ylitornio, Ähtäri 
Internationally
Bielefield (DE), Berlin (DE), Bochum (DE), Braunschweig (DE), Bremen (DE), Brussels (BEL) Dresden (DE), Dubrovnik (HR), Düsseldorf (DE), Frankfurt (DE), Fuengirola, Hamburg (DE), Karlsruhe (DE), Köln (DE), London (UK), München (DE), Münster (DE), Nürnberg (DE), Rhein-Neckar (DE), Rodos (GR), Stuttgart (DE)
How are the raised donations used?
You can donate as you sign up for the Women's Bank Walk as well as in the events themselves. With the raised donations Women's Bank supports the training, livelihood and entrepreneurship of women in developing countries. By supporting women, their families and often the entire village communities benefit, too. Read more about Women's Bank development work and it's results.
Thank you for giving women in developing countries a brighter future!
Questions? Want to take part in Women's Bank Walk 2019?
Please get in touch with us:
naistenpankki(a)kua.fi
Women's Bank Walk participants are not insured by the event.