Women's Bank Walk 2019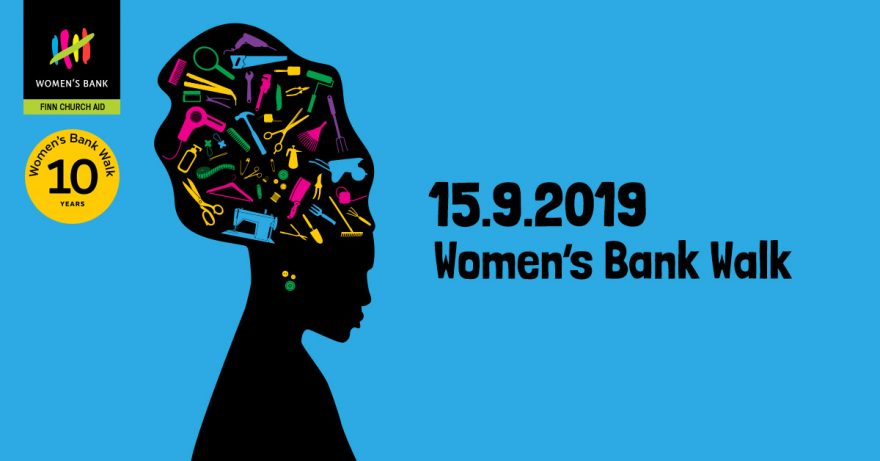 Women's Bank Walk is here again - 2019 is the 10th anniversary of Finland's biggest charity walk! Dozens of events are hosted all over the country and abroad between 6th and 15th September, with the main event day on 15th September.


Women's Bank Walk celebrates its tenth year in September 2019. The event gets hundreds of people to have fun and do good all across Finland and abroad. By following this page, you will get more information on the event locations and special plans for the anniversary. You can also sign up to organise an event yourself! This page will be updated and more event locations added regularly.
Register and donate here (in Finnish) > >
In 2019 Women's  Bank Walk events will be held in the following cities
Finland
Akaa, Alahärmä, Asikkala, Enontekiö, Espoo (Haukilahti), Espoo (Suvela), Helsinki, Helsinki (Haaga), Hämeenlinna, Imatra, Joensuu, Järvenpää, Kalajoki, Kauhajoki, Kauniainen, Kemi, Kirkkonummi, Kirkkonummi (Porkkala), Kiuruvesi, Kokkola, Kontiolahti, Kotka, Kouvola, Kuopio, Lahti, Lieksa, Loviisa, Nauvo, Nokia, Oulu, Outokumpu, Pietarsaari, Rautalampi, Saarijärvi, Savonlinna, Seinäjoki,
Siilinjärvi, Sipoo, Tampere, Turku, Vaasa, Valkeakoski, Valtimo, Vantaa (Hakunila), Ylitornio, Ylivieska
Internationally
Dubrovnik (CRO), Fuengirola (ESP), Munich (GER), Rhodes (GRE), Tervuren (BEL), Torre del Mar (ESP), Trebinje (BA), Zagreb (CRO)
If you are unable to attend the Women's Bank Walk near you, you can walk whenever you have the time. In this instance you can just choose "Other" on the event list and add your own location.
How are the raised donations used?
The donations raised by Women's Bank Walk events will support women in developing countries by providing them with education and entrepreneurship opportunities and the chance to earn a living. You can make a donation when signing up for the event. The standard donation, 30 euros, is the equivalent of one Profession, but participants can also choose to donate a different sum of their choosing. The donations from Women's Bank Walk will be used in Women's Bank projects in Africa and Asia. Providing women with job opportunities is shown to have a significant impact on the well-being of families: there are clear improvements in nutrition, health, schooling and housing conditions. Read more about Women's Bank development work and it's results.
We happily welcome companies to join the Women's Bank Walk: they can encourage their staff to attend Women's Bank Walk events and donate Professions on their behalf.
Thank you for giving women in developing countries a brighter future!
Do good and have fun – come join us at Finland's biggest charity walk!
If you have any questions, our team leaders are happy to help.
Kati Raassina raassinakati@gmail.com, 040 4822 960
Kristiina Ylikunnari kristiina.ylikunnari@gmail.com, 050 5580 114
Please note that Women's Bank Walk participants are not insured by the organisers.
Make a donation to help women in developing countries > >