Change has a female face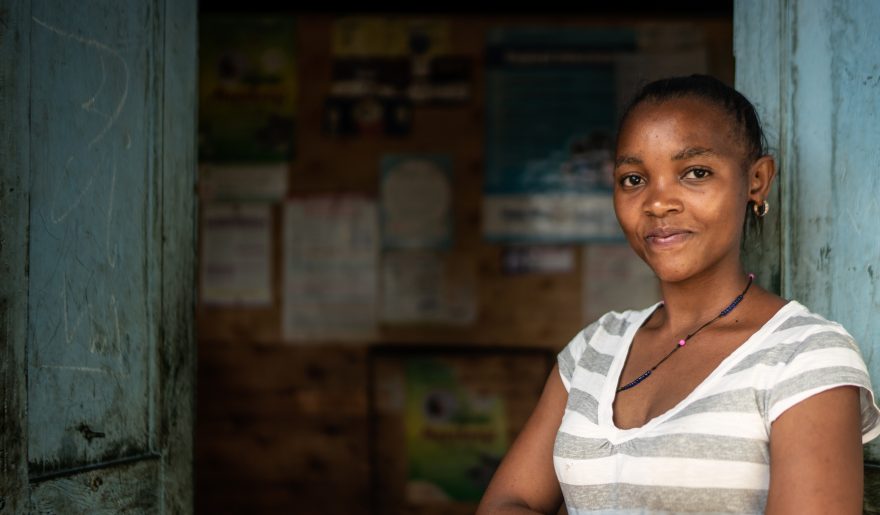 The world is not equal, and it is particularly unequal to women all around the world. The power for change lies with women themselves, and the Women's Bank has the means to harness it. But why are education and occupation key on the path towards equality?
Imagine a situation where your husband has gone abroad for work. You have lost contact with him months ago, you haven't received any money from him and you don't have any income of your own. Your children need school supplies, your in-laws living in the same household need to see a doctor and you need all the vegetables from your garden to feed your family. This situation is reality for countless women all over the world. In rural Nepal, for example, there are very few jobs and most working-age men go abroad to earn an income. The family at home relies on the money sent from abroad.
A single cash grant or school supply donations to children relieve the most urgent needs, but much more is required for change: courage, self-esteem, sustainable work, income, and, above all, cooperation!
Poverty has a female face
689 million people – more than the entire population of the EU – live in extreme poverty. The majority of those living in extreme poverty are women and four out of five live in rural areas. Women living in poor communities are particularly vulnerable because of their unequal status. Being dependent on the income and protection of others, makes women unable to make their own choices.
Finn Church Aid's Senior Livelihood Adviser Ulla Sarasalmi has worked on Women's Bank projects for years. In her work, she has seen how people can pull themselves?? out of extreme poverty through education and work.
– I interviewed women in Uganda about poverty and they said the poor are the ones who cannot work. Access to work can be prevented by injury or illness, but also by housework and the care burden. The poorest ones are single mothers with many children, says Ulla Sarasalmi.
In poor communities, families are often large. Caring for children and the home is time-consuming, and it takes time away from paid work and farming. Throughout the world, only 63 per cent of working-age women are employed. On the other hand, women do three times more unpaid work than men. This is a problem everywhere in the world, but it is particularly glaring in fragile countries. In fragile countries, inequality is reflected in the fact that poor women are always dependent on others.
Crises and disasters further aggravate the plight of women. The coronavirus pandemic has made working more difficult and tied women more tightly to home and care work. The climate crisis is making it harder for women to work as it hits sectors where women commonly work, such as agriculture. Due to lower levels of education, women do not have equal access to information on the effects of climate change or adaptation to it.
Women's education supports sustainable development
Educating girls is considered to be one of the most effective ways to support sustainable development. An educated mother can offer her children a better and safer life. Educated parents are also more likely to invest in the education of their own children so that they do not have to drop out of school for work. Literacy and education make it possible to access and search for information.
– To survive in the modern world, we all need basic skills, such as literacy and numeracy. Life revolves around instructions, agreements, and written text. Access to correct information depends on literacy, Sarasalmi says.
Literacy safeguards people's lives, starting from the little things. For example, when you are giving medication for your sick child, you need to be able to read the leaflet and make sure your child recovers. We need access to the right sources of information to be able to care for our health.
Above all, education makes change possible. Education opens doors to new information and increases mobility both mentally and physically. In many cultures, women's lives are limited to home and household chores. Men move for paid work and are influenced by the world around them. Education opens up the world and feeds into aspirations.
Education is essential for change and development. For example, comprehensive knowledge about climate change, adaptation to it and sustainable farming solutions is crucial in responding to the climate crisis.
Self-earned money brings women power
All women work, but not all work is paid. There is a lot of unpaid and therefore invisible work in homes and outside of the formal economy. Much of the invisible work is care work: caring for children, the sick and the elderly at home, and it also includes handicrafts and small-scale farming. Women do 75 per cent of all unpaid work worldwide, for three to six hours per day.
In a situation where women's share of the work is unpaid, men are considered to have more say over the use of household funds and assets. This mindset, however, does not take into account the importance of women's work in enabling men to earn an income. Self-earned pay helps women achieve financial independence and real opportunities to impact their own lives.
Decision-making and sustainable development
The change in the position of women is often viewed in relation to what it was like before: the baseline. However, the goal needs to be genuine equality. For this to be achieved, women need to be in leadership positions and in all the places where decisions are made.
Women's Bank strives to enable women to earn their own income, making it possible for them to choose how to spend their money. This increases equality within the family, but also in the community and society. The increased decision-making power gives women courage to participate in society in other ways as well.
– In the 2017 local elections in Nepal, women in cooperatives supported by Women's Bank concentrated their votes to make sure their own candidate would get elected. And they succeeded. Their candidate was elected to the municipal council, Sarasalmi says.
Change starts from women being able to step outside of their homes. Women who have managed to tackle hardship demonstrate that change is possible. Equality is everyone having a voice.
– In cooperatives, women can see that change is possible. What we do together matters. When a woman is forced to stay at home, she cannot experience the power of the group, Sarasalmi says.
Changing communities together
Projects supported by Women's Bank aim to make invisible work visible for example by making the work at home commercially viable. This can be done, for example, by developing craft production or by stepping up farming so that the products can be sold. By saving and reinvesting the proceeds, for example in better machines, the production can be further increased.
Supporting savings groups and cooperatives isat the heart of Women's Bank's work. The primary goal is to increase their economic profitability. For example, the members of a savings group can get loans with low interest to grow their business. Cooperatives can jointly procure, for example, supplies for cultivation and get them at a lower cost than they would have alone. Marketing and selling products and services is more effective together.
Cooperatives form a community with the power to influence also other issues affecting women's daily lives. For example, committees against violence have been set up within cooperatives. Thanks to this activity, violence against women can be highlighted and addressed.
The support of others is important both locally and globally
At the beginning, we started with the women in rural Nepal. Women involved in activities supported by Women's Bank do not have to wait for their husbands to send them money or return home. Women can manage their own businesses with the help of entrepreneurship training and support from the cooperative. With Women's Bank support, women can produce their crafts for the market or run their own shop or café. The income covers their children's schooling, and there's money left to save.
As members of groups supported by Women's Bank, women gain much more than just a better income. The savings group can offer loans for sudden crises, such as illness, or help a group member save money for their children's schooling. In addition to financial support, group members can share their worries and concerns and help each other with child and home care, as well as work. Community support in all areas is of crucial importance for improving women's own livelihoods and developing equality.
By contributing to the activity of Women's Bank in Finland, you can directly support the activities of women's groups in seven countries. Ensuring sustainable development and responding to the climate crisis needs all of us onboard. Women's Bank offers support and gets involved so that women around the world can decide on their own lives and act as a driving force for a more sustainable world.
Sources:
https://www.worldbank.org/en/topic/poverty/overview
https://www.unwomen.org/en/what-we-do/economic-empowerment/facts-and-figures