About us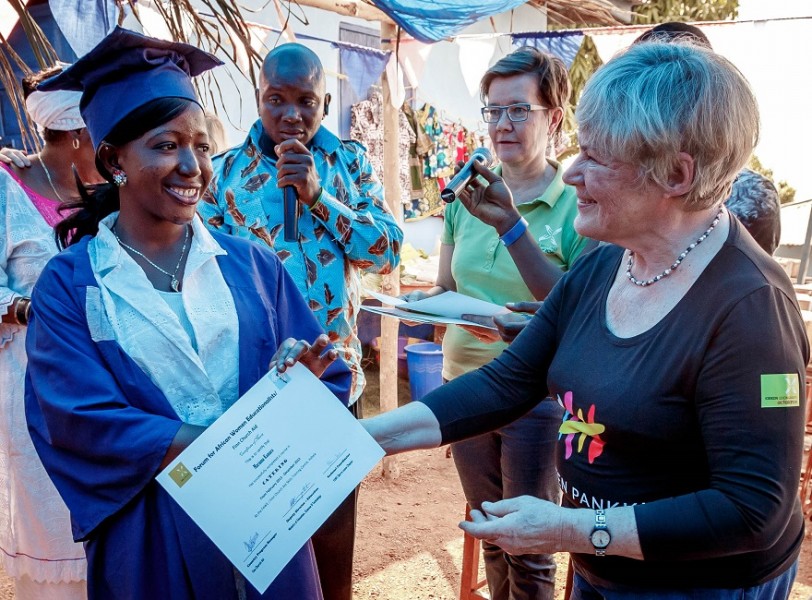 Women's Bank is a volunteer Network which raises funds to support women's sustainable entrepreneurship and livelihood in developing countries. The goal of Women's Bank is to support women and their families in Africa, Asia and other continents by alleviating poverty.
Finnish innovation
Women's Bank is a Finnish innovation. It was born in 2007 at the Brussels Airport, when a group of leading Finnish women from business and politics were on their way back home from Liberia. They had been invited to visit the war-torn West African country by the Finnish NGO Finn Church Aid, which was looking to develop its voluntary work.
All the women in the group were moved and shocked by the situation of Liberian women. One group member described a local woman's circumstances: "If she had had scissors, she could have resumed working as a hairdresser. But she could not even afford a pair!"
The voluntary network was started rapidly. Its founders pledged to talk 80 per cent about business and 20 per cent about Women's Bank at all their business meetings. In the years to follow, the Women's Bank network grew fast.
Women in Finland are known for their independence and equal status with men. Finnish women were the first in Europe to win the right to vote and the first in the world to be able to stand as candidates at elections. The country's municipal day care system has since the 1970's enabled women to work and have careers. Now Finnish women want to give other women a chance to succeed.
Women's Bank was born to support women's entrepreneurship, and entrepreneurship is at the core of its values. In the context of underdeveloped communities, this usually means small businesses run by women.
It also means that many women can have their own money – often for the first time in their lives.
Women's Bank gives women a chance
In just over ten years, Women's Bank's volunteer network has fundraised well over 10 million euros for women in developing countries. Women's Bank consists of 40 local groups and about 3 000 volunteers. Mostly women, but some brave men, too.
The volunteers have contributed with their time, money and skills, and utilized their business and media contacts. Every year the volunteers have organized hundreds of events such as concerts, golf tournaments, fashion shows and flee-markets selling designer clothes.
Women's Bank has become a movement of modern volunteer work, where each volunteer can make use of their own professional skills.
"Volunteering is possible in many different ways. At Women's Bank one can knit and bake too. But that wouldn't be my cup of tea", says Riittakaisa Kässi, who works as service manager at a financial service company in Jyväskylä in central Finland. Her work experience and knowledge is put to great use as the chair of the Women's Bank Jyväskylä group.
"Through Women's Bank I have got to know women I would otherwise never have met. Together, we're doing valuable work while having a great time! And it is the most wonderful feeling to be able to pass on the funds we have gathered", Kässi says.
Business idea of Women's Bank
The goal of Women's Bank is to support women in developing countries in Africa, Asia and other continents by alleviating poverty.
Women and girls are an underutilized resource for progress in developing countries. Improving the status and the livelihood of women is the single most important way of eradicating poverty and improving the general standard of living.
By supporting women in a sustainable way, you will support their families and often the entire village community. When women's incomes increase, it will improve the livelihood of the people around them, too. Many projects have specific roles for men as well. For example, Cambodian village banks also have male members.
A number of international forums have noted that one of the most important means of abolishing poverty is to improve women's possibilities of earning their living. Women are frequently the poorest of the poor. Improving their position is in direct correlation to the prosperity of the whole family and even to that of the entire local community.
Related posts