Women's Bank Spring Meeting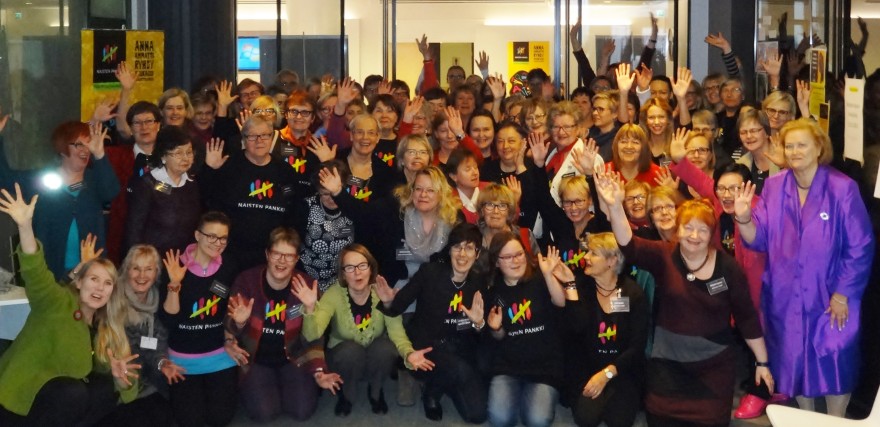 At the end of January Helsinki hosted the so-called Spring Meeting of Women's Bank. 90 volunteers from 21 local groups gathered in the venue provided by FCA, greeted by a warm atmosphere arriving from the biting cold.
Founder member Satu Meh­tälä gave the kick-off speech, taking the audience back to the pivotal trip to Liberia in 2007 that gave rise to the formation of Women's Bank, as well as the 'Roots Song'; expressing the main drive of the network.
Jeunay Mackendy, employee of FCA in Haiti, passed on greetings from 300 women. He gave an account of how through the project funded by Women's Bank Haitian women can learn how to read and write, get training in entrepreneurial skills and family planning, and as a result make their voices heard in their communities.
Volunteers had lively discussions, sold and bought colourful DIY accessories with a Women's Bank theme, came up with new ways and means to put to use.
The year's schedule was discussed; the Business Angel campaign in spring and the 'Walk a Profession for a Woman' event in the autumn, among others. Participants from different localities gave their ideas and suggestions to improve national operation, as well as shared best practices in local groups. The spring meeting gave participants enthusiasm, new ideas and motivation to work together.
'I came away feeling wonderful' Riitta Hautala from Järvenpää summed up the general sentiment.
"Roots Song"
WOMAN OH WOMAN,
DON'T BE NOBODY,
BE SOMEBODY!
IN YOUR KITCHEN,
IN YOUR OFFICE,
IN YOUR BEDROOM
USE YOUR HANDS,
USE YOUR HEAD,
USE YOUR HEART.
DON'T BE NOBODY!
 Text:  Mari Kankaanranta,Tiina Toivakka
Photo:Tarja Vingren
This article was published in Women's Bank Annual Report 2014 (available in Finnish and Swedish).
Related posts