Hold on to your dreams – Sokna's story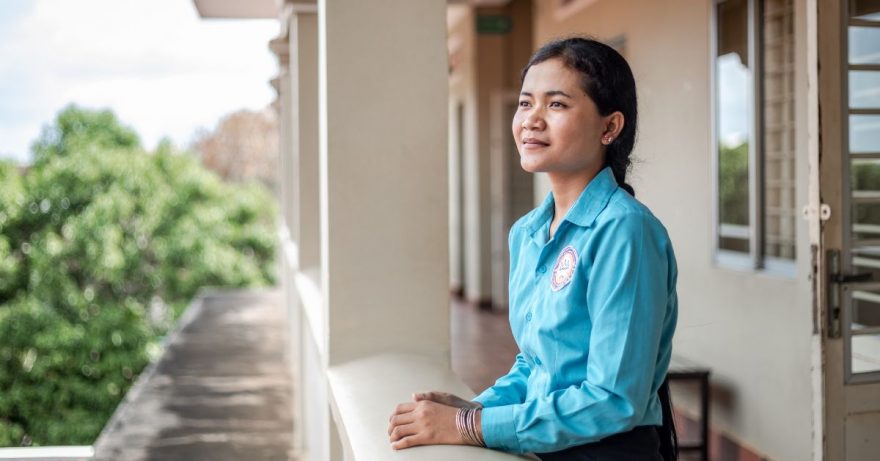 After high school, the daughter of a Cambodian farming family heard from her parents that she was no longer allowed to continue her studies, that being said her help was needed at home. However, Sokna had a dream that she did not dare to tell her parents.
In the morning, you can hear the rumbling of motorbikes from the yard of a vocational school near the center of Siem Reap city, but the yard is no longer as full of motorbikes as it was a month ago. Several students have passed their final exam, and now they are waiting for the official graduation date and to receive their completion certificates.
One of the graduating students is 19-year-old in the field of information technology and graphic design, her name is Chhnang Sokna. Despite her parents' objections, at the age of 17, she left her home village of Domnark DomRiey, about 100 kilometers away, to the city of Siem Reap in the northwest of the country.
– I lied to my parents that I was going to Siem Reap for work, Sokna said.
Sokna did not dare to tell her parents of her study, however, she only tells her parents that she is working in a factory. In fact, she is studying information technology in the city. A friend later revealed the secret to Sokna's parents. In the end, Sokna's parents gave her permission to continue her studies when she promised to send them money.
The Women's Bank scholarship secured schooling
Sokna partially paid for her studies by working, and she received a partial scholarship through Women's Bank. With the help of the scholarship, she was able to continue her studies despite the outbreak of COVID-19, because of COVID-19 her workplace is stopped and without the scholarship her studies would have been in uncertainty of being interrupted.
When the covid-19 situation eased, Sokna got a job as a waiter in a restaurant and she was able to save money for her own computer, which made studying easier.
Sokna got herself an internship position, where she was able to do graphic design. Fortunately for her, the company needed a full-time employee, so after completing her final exam, she has been working as a paid employee at her former place of internship.
– I am really proud of myself that I studied hard and now I have a job, Sokna says happily.
– I want to inspire others with the fact that women can also work in the ICT field like men, states the brave young woman, Sokna.
Education brought self-confidence
– I used to be a quiet country girl, but my life has changed a lot. Today I work in the ICT field and I have become sociable, and I enjoy talking with my friends, Sokna says with a smile.
Sokna wants to continue her studies in information technology and complete a two-year bachelor's degree. Her dream is also to one day establish her own company in the graphic design. Sokna could also imagine working as an IT teacher.
– I want to inspire other young people and share my story with them. I have gone through a challenging path, but giving up has not been an option for me, Sokna added.
Written: Paula Saastamoinen
Piuctures: Roun Ry
Related posts