'I want to bring my husband back!'
How micro loans can pave the way to an independent livelihood
'My name is Sangita Nepali.  I was born in Makwanpur district but after my marriage I came to Lalitpur. I used to go to other's houses to stitch clothes but now I have my own shop and I don't have to go other's houses in search of work. My life changed after I joined the local Lalupate Women Group in Lalitpur
Our financial condition was very weak so my husband went abroad to earn money to feed ourselves. But the work was not as stated so he returned and went again. We had taken a loan both time and I was hopeless to repay loan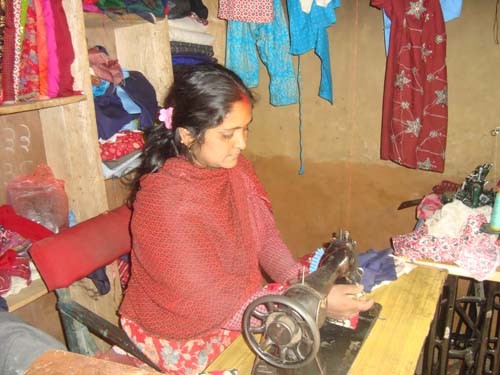 without having any income source. I had a hard time feeding the children and paying for school stationeries. It was very difficult for me to manage the daily expenses.
One day I heard about Women's Bank and its cooperative program from my friend.
Then I thought I might get help from them and applied for a loan of NPR 15,000 (EUR 143). They made me member of cooperative and gave the loan without any collateral. After receiving the loan, I opened a tailoring shop and started sewing clothes. This shop now fetches me a regular income of EUR 80 to 100 monthly and I am able to pay interest and also feed my family from this income. After getting involved in the cooperative I started attending cooperative education class and now I am also in the working committee of the cooperative.
Before I didn't have money to buy even a pair of bangles but now I can get all necessities. I am very happy and feel independent.
Now, I am able to meet my family's expenses easily. And this gives me immense pleasure. My shop is running smoothly and now I am planning to expand it further. I want to make my shop an example to all the women in our community and call my husband back home so that we can live and work together.'