In savings groups women have a say over their own money – a small box holds big dreams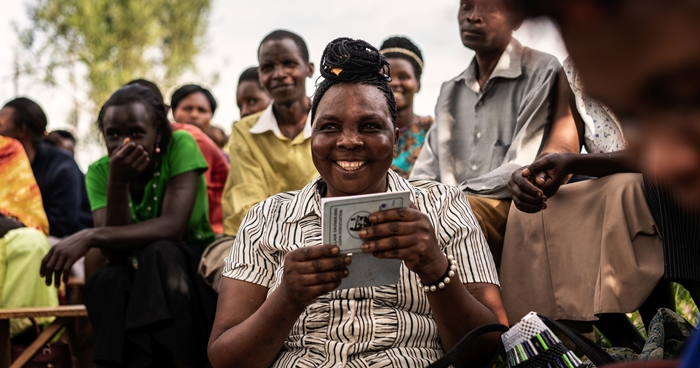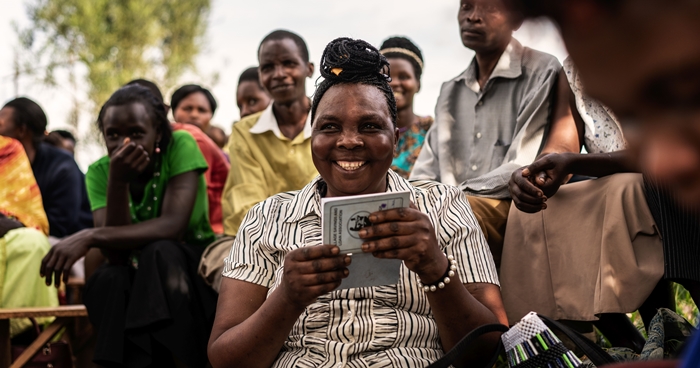 In rural Uganda, savings groups have become popular, offering women with modest backgrounds an opportunity to show what they are capable of.

Support women's economic empowerment. Donate now >>
The women are seated next to each other, attentive, with a bill wilted from the heat in one hand and an account notebook in the other. For once, it is completely quiet. No sound of laughter or the clucking of chicken can be heard, and even the children are playing quietly a short distance away. The situation calls for concentration. There is no room for error.
"Next," Adah Tukahirwan, 33, calls out, breaking the silence.
A woman dressed in a traditional patterned dress stands up, walks to the middle of the group, and hands the treasurer 5,000 Ugandan shillings, equal to 1.35 euros. Once the amount is recorded in the notebook, the bill disappears into a metal box in the middle of the group.
She returns to her seat, and the woman next to her stands up. She too deposits her bill in the box. The box is heavy, and it takes three people to open its three locks. Distributing the keys to several people ensures that the money is safe.
In this village, the women control the money, and they know exactly what to spend it on.
The women of Kamwenge began saving three years ago, when Women's Bank started its first savings groups in the region. Today, there are two hundred groups. Each group has 20 to 30 members.
Savings groups are an internationally widespread way to increase the financial self-sufficiency of communities in remote rural areas that lack official financial institutions such as banks. A loan is an opportunity to make a larger one-time investment, such as buying livestock, in order to rise from poverty. The loan is paid back once the animals have offspring or produce milk that can be sold at a profit.
The members of the groups meet on a weekly basis, depositing an agreed sum of money  in the shared box.
"The deposit  has been made small enough for even the poorest to be able to join in," says Haq Makumbi, project manager for the Finn Church Aid partner organisation RACOBAO.
In the saving groups supported by Women's Bank, the minimum sum to deposit is 1,000 shillings (about 0.30 Euro). The fund is used to grant low-interest loans. The size of the loan depends on how much each member has saved.
"At some point, every member of a savings group receives a loan," says Makumbi.
The members of the saving groups are mainly women. Supporting women in securing a livelihood is effective as it increases the financial influence of women raises the standard of living of the entire family, as has been found in several studies. When women get to make financial decisions, the income of the family goes towards food, the children's education, and costs related to health.
The saving groups also include men, but they make up no more than one fifth of the members.
"By including men, we ensure domestic harmony and the entire community's commitment to the activity. Many couples have joined forces to pay back their loan, which brings spouses closer to one another," says Makumbi.
Kamwenge, located in northwestern Uganda, is among the poorest regions in the country. It has the highest rates of child undernutrition as well as the biggest families in Uganda. The high birth rate perpetuates poverty. According to the Uganda Bureau of Statistics (2016), women in the lowest income bracket give birth to an average of seven children during their lifetime.
Adah Tukahirwa wanted to wait before having children, to go to school and to earn money of her own. However, the method of contraception available to the young married couple failed, and every year another child came along. Now, they have seven.
"I had no choice but to focus on looking after my family and to abandon my own dreams. Nowadays, all my plans concern my children," says Adah.
She hopes to stay in good health and to live long enough to make sure her children finish their education – and to not become pregnant again.
Last year, Adah was chosen as the chairperson of the saving group in her village. This is a highly regarded position of trust.
"It makes me happy that 30 people trust me and chose me as the group's leader."
As the chairperson, it is Adah's duty to make sure that loans are granted to members who are able to pay them back. It is a big responsibility, but Adah says it suits her.
While leading the savings group meetings, Adah is in her element. Confidence shines from her bright face and the determined grip with which she directs the meeting.
What is the secret of her success?
"I grew up in a family that emphasised loving your neighbour. My parents said that we should wish for others what we also wish for ourselves. Our doors were always open to visitors. What I learned then has brought me to where I am today."
Kamwenge is home to many families and descendants of families who fled the tyranny of military dictator Idi Amin in the 1970s. In the early 2000s, the Ugandan state relocated returnees in the region, providing them with small patches of land for farming.
The rainy season brings out countless shades of green in the landscape. Produce such as maize, cassava, beans, and matoké or plantain ripen under the burning sun.
Most of the inhabitants of Kamwenge provide for their families by farming. This mode of livelihood depends entirely on the weather conditions, which makes the finances of the families uncertain. The smallest change in the climate, or an additional expense, may prove distraous. If a family member falls ill, the harvest needs to be sold prematurely in order to afford medication.
"Traders will only pay 200 shillings for a half-ripe kilo of maize, even though the current price might be four times that," says Justina Nuwahereza, 36.
Justina is a mother of six and a farmer. Making sure that her children have a full stomach every morning and night is hard work
Before, she had to do all the work by hand, but with the loan from the savings group Justina was able to buy two oxen and a plough. The investment paid off.
"These days, the oxen plough the field for me. This eases off my workload makes the work more efficient. I also rent out my oxen to neighbouring fields, which brings in extra income."
Justina has been able to increase the area of her crops.
"I'm able to grow a lot more maize than before. My family can even afford to have three meals per day, and my children are able to go to school," she says.
"In addition, I can borrow money from the group for urgent needs, and I no longer have to sell off my harvest to intermediaries for a pittance."
Justina only went to school for four grades. Her father died when she was a child, and her single mother could not afford to keep her daughter in school. Justina wants to educate her own children up to the university level, if possible. She dreams of starting her own shop that would sell at least sugar, soap, and of course, maize flour ground from her own harvest.
In Kamwenge, even maternal and child health are the poorest in Uganda. The distances to health centres are long, and the roads are difficult to travel. Almost half of all mothers give birth without the assistance of a midwife.
Nurse Anitah Owaruhanga, 27, deftly inserts a needle and soothes the child suffering from fever and crying in the arms of its mother. Anitah's clinic fits in one room, but her medicine shelf has all the essentials.
Despite her young age, Anitah has accomplished a lot. In addition to running her own clinic, she has two sets of twins. The first pair, a girl and a boy, are five, and the younger two are less than  one year old. Anitah is using her income from the clinic to build a house for her family.
"I always knew I would have to work hard in order to succeed in life," says Anitah.
Anitah moved to Kamwenge with her husband a few years ago. At first, she knew next to no one in the area, but after starting her clinic, she began to make friends. The word spread about the young, accomplished nurse, and people in the village started to visit her reception.
However, after less than a year, Anitah had to close the clinic because she could no longer afford to buy medicine.
"It was a huge disappointment. I had no choice, because my husband went back to school."
Joining the savings group three years ago changed everything. Anitah was granted a loan by the group, enabling her to fill the medicine cabinet and reopen the clinic.
"The best feeling comes from seeing how treatment helps my patients. When I provide someone with good care today, I have more clients coming in tomorrow."
Thanks to the clinic, Anitah is a well-liked, well-respected member of her community. With the income from the clinic, she is also able to pay her older twins' school fees, with money even left to spare at times.
Anitah provides for her children by herself. Her husband is currently working abroad. He plans on returning home in a year's time. Many young people in Uganda go abroad to work because there are limited work opportunities in their native land. The young couple stay in touch daily via Whatsapp and are planning their future, including a finished house of their own, with a larger clinic attached to it.
Bringing nourishing food to the table causes concern for many mothers. According to the Food and Agriculture Organization of the United Nations (FAO) (2015), nearly two thirds of the population of Kamwenge suffer from food shortage. The rate of child undernutrition is among the highest in Uganda.
There is a lot of activity these days in the yard of Sylvia Alinitwe, 36. There are chicken clucking and two duelling goats brandishing their horns at one another.
"At first, we had no livelihood here at all, because we moved here from another region in search of more affordable land. We had no crops and no income," says Sylvia.
In their old region, the family lived in cramped quarters and was hardly able to grow anything. The only way to bring food on the table was to work in other people's fields. The chicken kept trespassing on the neighbour's yard, causing constant arguments, and there was no room to keep any other animals in the family's own yard.
In Kamwenge, the family had to start from scratch. The saving group granted Sylvia a loan that enabled her to buy pigs and goats. Once the animals have had offspring, she has sold some, which has given her some extra income.
"Before, I could only afford to cook one meal a day for my family. Now, we have as many as two to three meals a day, and I can give my children eggs. I have been able to buy my own plot of land that I use for growing food, both for ourselves and to sell," she says.
The worst of the midday heat has already passed when the last member of the saving group  deposits her bill in the box. The afternoon sun casts its slanting rays on the women's faces. The box is carefully locked using three locks. As the women set off, each walking towards their home, everyone's mind is brimming with ideas on what to do with their personal savings that are accumulating in the chest.
Text: Elina Kostiainen Photos: Fredrik Lerneryd
Translation: Leena Vuolteenaho
Support women's economic empowerment. Donate now >>