Srey Ny dreams of becoming a writer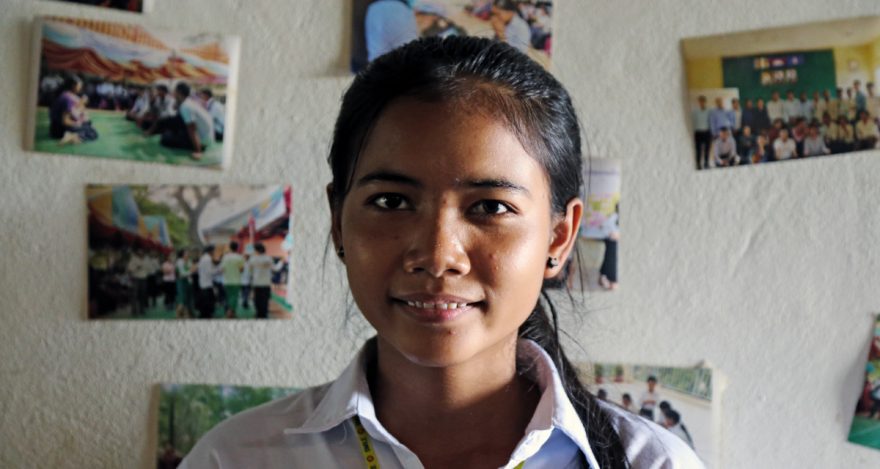 Srey Ny, 19, is about to graduate from high school in Cambodia. She lives in the village of Kralanh, 55 kilometres from Siem Reap and the world-famous Angkor Wat temples.
Srey Ny loves to read and writes stories of her own. She dreams of becoming a writer in the future. With the Women's Bank scholarship, Srey Ny can complete her studies in high school.
Her schooling was about to end in the ninth grade as her parents couldn't afford her education. In addition, the commute was long and difficult as the family lived 25 kilometres from the school.
Srey Ny's life was changed by the Women's Bank's Promoting Women's Entrepreneurship project. The project offers an opportunity for girls in the most vulnerable situations to complete the education either in high school or in a vocational institute. Parents are also given encouragement in supporting their daughters' schooling. These girls often live in remote villages and come from poor families, and for many, the scholarship is their only chance to complete their studies. Srey Ny's scholarship support began in 2017, and she will graduate from high school in 2020. She lives in the Girls' House, located some 500 metres from her school. She sees her parents every two weeks or so.
Srey Ny loves to read and dreams of becoming a writer. She shares her love for reading with others too; she teaches English to 7–8-year-olds as a volunteer, and tries to find English books that would entice her pupils to keep reading. Srey Ny has also worked in the 'mobile library', supported by the Women's Bank project.
The mobile library provides a library service during school holidays to those areas without a regular library. When touring around the region with the mobile library, Srey Ny has encouraged other young people to read and shared her favourite books.
After high school, Srey Ny aims to study philosophy at university. She is currently looking for scholarships that would enable her studies.
When asked how she will celebrate her high school graduation, she gives a smile. There will be no graduation ceremony, but she doesn't mind this. She is about to graduate soon, and that is all that matters.