Women's Bank Activities 2018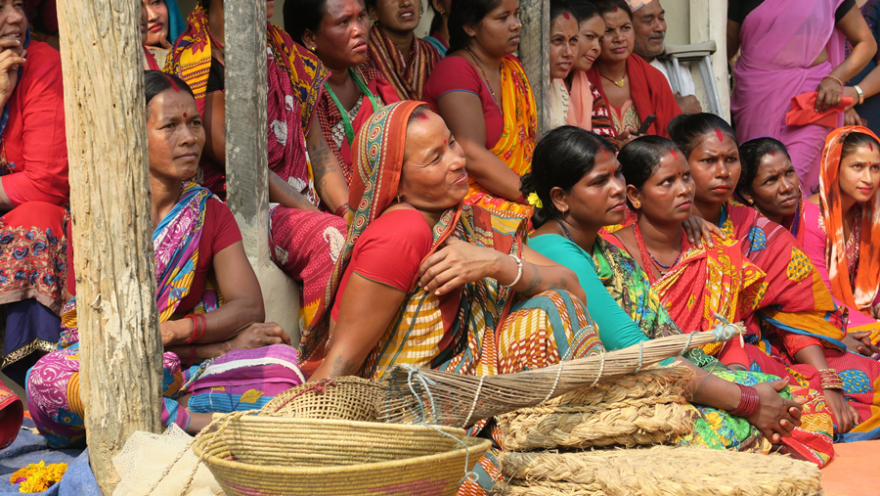 In 2018, Women's Bank volunteers organised several national events and tours, as well as numerous local activities.
The Women's Bank Winter Conference was held in Kotka
 The year began with the Winter Conference of Women's Bank volunteers, arranged in Kotka. In addition to current affairs, the programme featured travelogues by volunteers who had been to Uganda and Nepal. In the evening, there was time left to meet Kotka City Council Chair Nina Brask, and Salla Piipari-Huovila, one of the Council members.
On the second day, there was a panel discussion on empowerment and compassion. The panel comprised Reetta Meriläinen, the Women's Bank steering group Chair, the Pastor of the Year Juha Tanska, and Marjaliisa Koskensalo, a provider of emotion-focused art therapy. The discussion was led by the journalist Ulla-Maija Sievinen.
40,000 euros raised by golfing
Finland's largest charity golf tour, Women's Bank Open 2018, kicked off in May. By the time the tour concluded in September, nearly 40,000 euros had been raised. This translates to 1,300 Professions for women in developing countries.
The golf tour involved more than 1,200 players in 24 individual competitions. The tour winners were Antti Ihalainen (Pickala Golf (PGC)) and Antero Lindström (VaGo), who accumulated 71 points from five individual competitions. Maria Elemo-Räisänen (Sarfvik Golfklubi (SGC)), who golfed in eight individual competitions, was named the Most Active Individual Player.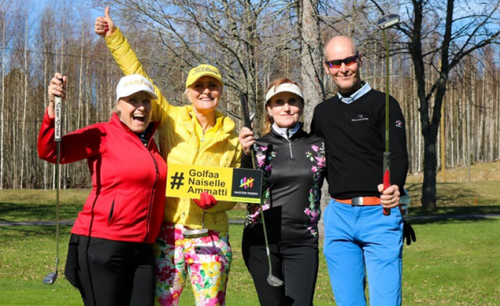 Women's Bank Walk brought in 82,000 euros
The Women's Bank Walk, arranged in September, brought over 82,000 euros, or more than 2,700 Professions. The number of event participants was 2,000, coming from 75 localities. The northernmost place for the walk was Utsjoki while the southernmost place was Kirkkonummi. Abroad, the Women's Bank Walk was held in 22 locations, including Croatia, Germany, Greece, and Spain.
Several individual walks were also held in conjunction with the Women's Bank Walk campaign. Johanna Sallinen walked a distance of about 250 km from Porto, Portugal, to Santiago de Compostela while Marjo Piipponen walked in northern Karelia towards her multiannual objective of 70 professions.
New Chairs to steer the management group
At the beginning of September, the Women's Bank management group got new Chairs as Liisa Kapanen and Paula Pauniaho, both active Women's Bank members, took over.
Liisa Kapanen has been involved in Women's Bank activities since 2013. She has been a member of the corporate fundraising group and is the former Chair of the Helsinki local group. In December 2018, she received an Honourable Mention in the Citizen Forum's national vote for the Volunteer of the Year.
Paula Pauniaho acquired a Women's Bank share in December 2009 and shortly thereafter joined the corporate fundraising group. In addition to business cooperation and other activities, she has been involved in developing the Women's Bank communications strategy.
The Autumn Conference gathered volunteers in Helsinki
In October, Women's Bank volunteers gathered in Helsinki for the traditional Autumn Day Conference. Among other things, the event focused on networking and the significance of various cooperation projects. The Autumn Conference also presented results from the work carried out in the projects in 2018.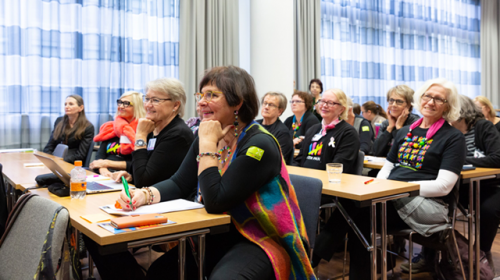 Local events of all kinds; Women's Bank volunteers visit Nepal
In addition to national events, Women's Bank activities were organised by active local groups across Finland. Events of all kinds were held. Professions for women were raised by singing, dancing, skiing, hiking, doing arts and crafts, coding, writing, blogging—and even having a sauna. Local groups also arranged handicraft and reading circles and bazaars.
A new Women's Bank local group was established in Kalajoki and it wishes to extend you a hearty welcome. In the meantime, a group of nine Women's Bank members travelled to Nepal to meet the local project women in November. The memorable trip made the visitors laugh and cry and gave them increasing confidence that help is actually getting through.
Many thanks to our cooperation partners
Business cooperation is an important and significant part of Women's Bank activities. In 2018, numerous businesses across Finland were involved in Women's Bank activities.
Project-specific Women's Bank donations were provided by Handelsbanken (Uganda), Kaiko Clothing Oy (Nepal), Novita Oy and Suominen Oyj (Cambodia). The main national cooperation partner of the Women's Bank Walk was BDO Oy. The walking events were also supported by numerous local partners.
The Women's Bank Open cooperation partners included 24 golf clubs, but also Mercedes-Benz, travel agency Golfresepti, KLM Royal Dutch Airlines, Oy Karl Fazer Ab, the Finnish Golf Union, GoGolf Oy, Suomen Golfpiste Oy, GameBook Oy, Honour-Golf magazine, Viking Line Abp, Pelican Selfstorage, Continental, the Expo and Convention Centre, PGA Catalunya Resort, Sixt car rental, and FORE Turku ry. In addition to these, Sokos-Hotels were involved in five individual competitions as local partners.
Product and service cooperation was provided by Caps Look entrepreneur Iina Lappalainen, House of Elliott Oy, premium accessories brand LUMI, Saintex Oy, Sokos Hotel Presidentti, Finland-Honduras society Suomi-Honduras Seura ry, and development aid shop society Tampereen kehitysmaakauppa ry.
Many thanks to all our cooperation partners for their valuable support!
Text: Heidi Jääskeläinen, Liisa Kapanen, Susan Mykrä, Ulla Räisänen
Header photo: Paula Saastamoinen
Related posts