Women's Bank organisation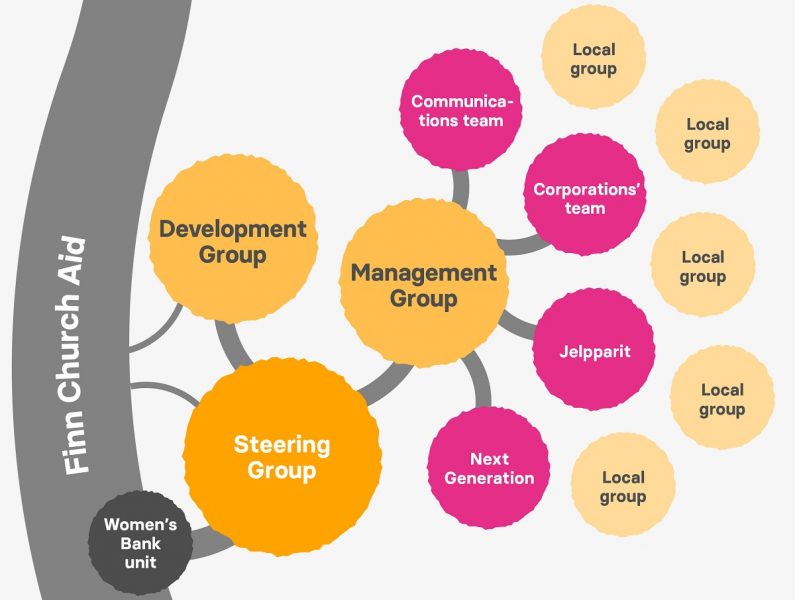 Women´s Bank forms its own unit that operates within Finn Church Aid's (FCA) resource mobilisation, fundraising and communications department. The staff of the Women's Bank unit oversee private fundraising and support the volunteer network's multifaceted activities. In addition, FCA is responsible for Women's Bank's programme work and governs Women's Bank's funds.
The Women's Bank Steering Group creates the organisation's strategy and sets its operational goals. It also approves Women's Bank projects based on FCA's presentation, follows the operations' progress, and assesses how the goals are being met. The Development Group works to develop Women's Bank's programme work, seek new solutions and strengthen the impact. Women's Bank's Management Group consists of the leaders of four national working groups, two chairs, the office Account Manager, and the Head of Unit. The Management Group is an operational entity with the purpose of managing and overseeing the volunteer network's operations.
There are four national working groups in Finland: the communications team, the corporations' team, 'Jelpparit' who support local groups, and the young adults' team, 'Next Generation'. Women's Bank's volunteers operate in over 40 locations in Finland and abroad. The local groups organise various fundraiser events and campaigns to support the Women's Bank projects.