Greetings from Dubrovnik!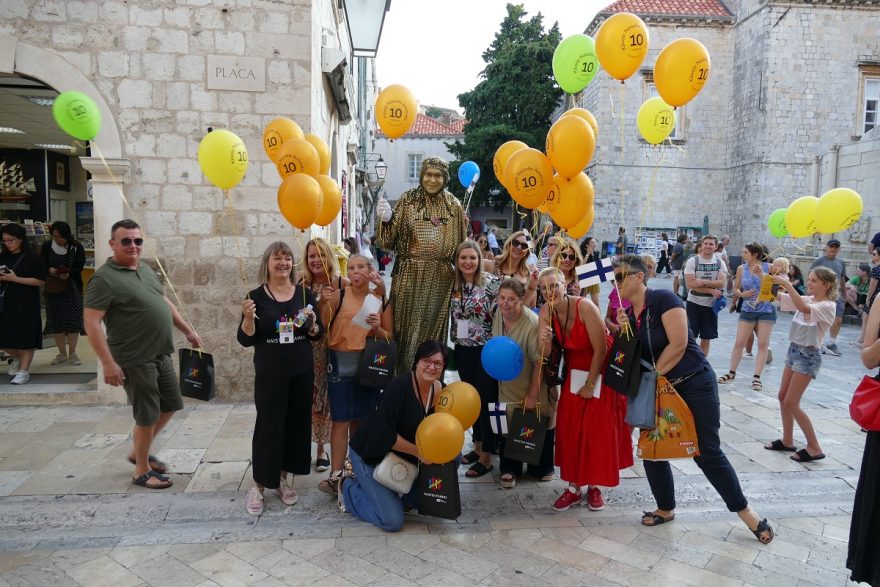 The beginning in Dubrovnik
Women's Bank Dubrovnik started their activities in 2015, with the Women's Bank Walk event, thanks to Tarja Wingren. Since 2018, the organizing of the Women's Bank Walk event has been in my hands, all thanks to my friendship with Tarja. She recognized the potential in me. A large number of media have been involved in the event, which certainly has contributed to the significant success of the collected donations.
Group members
There are always people in Dubrovnik who are ready to help, either in organizing events, distributing promotional materials, taking videos and photos. Constant help comes also from Finland, such as sponsorship, printing promotional materials, running social networks etc. It is difficult to say the exact number of people actively participating, but I would say there are over a dozen.
Events
For now, the most important and popular event is Women's Bank Walk. It attracts the people of Dubrovnik, many Finns, but also tourists who find themselves on Stradun during the event, join the symbolic walk. I think that the balloons we give to every participant became some kind of our brand – it attracts people to come to see what's happening. Many of them join us in the walk and/or donations.
The day before Women's Bank Walk 2019, a lunch was organized for journalists, active participants, guests (former Women's Bank steering group chair Reetta Meriläinen, and Rosa Vanhanen from the Embassy of Finland in Zagreb) and organizers. Last year, after the main event, a dinner was held with a concert of Dubrovnik famous cellist Mihaela Čuljak.
This year, in addition to the Women's Bank Walk, there will also be a 'Read for a Profession' event (Lue Naiselle Ammatti) where writer Minna Lindgren will present her books with Reetta Meriläinen. Tanja Raunio will make a special mocktail and money from the sale will be donated to Women's Bank.
A special event with Finnish tango singer Kyösti Mäkimattila is also planned for next year, as it has been canceled several times due to the Covid-19 pandemic. We can gladly say that this year we will have even more special guests attending Women's Bank Walk: Finnish Ambassador in Croatia Kalle Kankaanpää and world-famous mentalist Pete Poskiparta from Finland.
Tradition
It could be said that now the Women's Bank Walk in Dubrovnik has become a tradition. It always takes place on the first or second Sunday in September on Stradun at 6 p.m. Many acquaintances I meet during the year, especially in the summer, are asking me when it will take place and how they can participate. The event has also been attended by several women from the political and cultural life of the city of Dubrovnik.
What others can learn from Women's Bank Dubrovnik?
I think it's very important to understand the role of public relations. The goal of the association is to promote public interest, which is not possible without public support. Public relations contribute to a better reputation, which enables the realization of the mission and vision of the organization. This is, in the case of Women's Bank, the collection of donations that are directed to the livelihoods of women in Africa, Asia and the Middle East according to the principles of sustainable development. It could be said that Dubrovnik's results are an indicator of the importance of public relations.
I am glad that I wrote my master's thesis based on this, because it can help in analyzing event organization for Women's Bank Dubrovnik. Analysis needs to be done to see the advantages and results, but also the disadvantages or some future plans. As far as the organization itself is concerned, there are a lot of details that need special attention.
Text: Victoria Ogresta and rest of Women's Bank Dubrovnik,  Main picture: Ari Elo
Related posts