Cambodia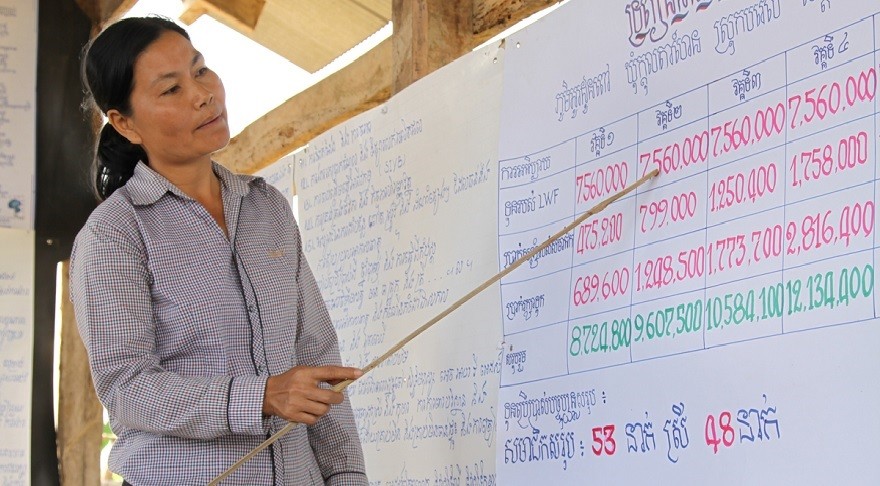 Women's Bank operates in Cambodia primarily by financing village banks.
6,398 women benefitted from our work
CAMBODIA IS ONE of the poorest countries in Asia. Around 80 percent of the population lives from agriculture. The country's development is hindered by vast income gap between the countryside and towns, poor educational system and corruption. The country is particularly vulnerable to the negative impacts of climate change, i.e. floods, storms and heavy rain.
Cambodia has been one of Women's Bank's programme countries since 2007. In Cambodia, our work, following the principles of sustainable development, strengthens the position of women and girls as regards their social and economic equality.
Women's Bank had two projects in Cambodia in 2019. A three-year (2017-2019) Promoting Women's Entrepreneurship project was carried out with a budget of 300,000 euros. The project enabled 670 women from 45 villages to gain a more sustainable income.
A hundred girls were awarded scholarships to enable their further education in secondary and vocational schools. The scholarship enabled the girls to obtain books, a school uniform, a bicycle for the commute and a place in a dorm in the Girls' House.
Cooperation for Women's Economic Development (CWED II) is a three-year project (2018-2020) supporting agricultural cooperatives. The members of the cooperative run a wide range of businesses: vegetable growing or chicken rearing, seamstressing and hairdressing. The women received training in entrepreneurship, market research, and advertising. Farmers have been trained in climate adaptive agricultural techniques, such as water-saving watering systems, crop rotation, and the use of fertilisers.
The project budget is 750,000 euros. Around 9,000 people have directly benefitted from the cooperatives, and when their families are included, there are nearly 30,000 beneficiaries.
Related posts