Cambodia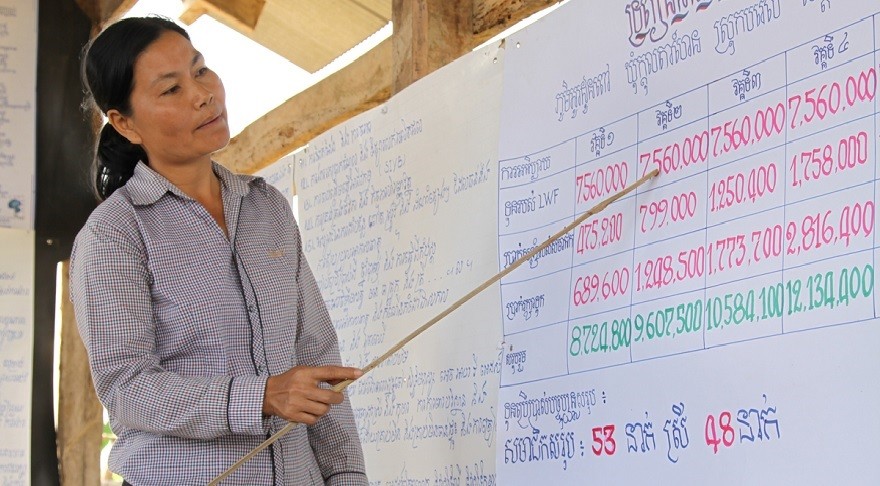 Women's Bank operates in Cambodia primarily by financing village banks.
Cambodian village banks
Women's Bank operates in Cambodia primarily by financing village banks, 119 of which have been set up during the life of the project. The project also comprises a number of training programmes, some of which are related to savings and loan activities and directly support village bank operations while others improve the entrepreneurial skills of participants and/or the skills needed to perform the participants' vocations. Training is available i.a. for cosmetologists, hairdressers and seamstresses; courses on agricultural production and further-processing possibilities have also been organised.
Village banks operate in rural communities in Cambodia where financial services are not readily available and frequently out of reach of poor families. Village bank members receive basic training in savings and loan operations and in the granting of micro start-up loans.  Start-up capital varies according to the number of members (35 euros/member) and averages 750 euros. The size of the loans is generally 8-35 euros although larger loans up to an annual ceiling of 180 euros are granted against sound collateral.  3% monthly interest is charged, which is low in comparison with that charged on other loan finance available to poor families. The interest is used in its entirety for the benefit of the bank, its members and the local economy; one per cent is used to cover the bank's operating costs, one per cent is returned to the bank's capital and one per cent is distributed to members as dividend.
The individual banks have 20-60 members, the majority of whom are women. Men are not entirely excluded from the banks' operations but under the byelaws management of the banks is in women's hands. At least two of the bank's three-member management board must be women.  Credit losses have been minimal and the repayment rate virtually 100%.
For the poorest families "own-help" groups are organised and train them in basic money and accounting skills to enable them to become full village bank members at a later date.
At the beginning of 2009 the project comprised a total of 68 village banks and more than 2 700 households; the lives of some 15 000 people have indirectly benefited from the project. It will continue through 2009-2011 during which time 51 new village banks will be set up. Members of existing banks will be given further training in questions relating to management of the bank and fund-raising and interbank co-operation will be developed. Entrepreneurial and vocational training programmes will also continue.
The local partner is the Lutheran World Federation Cambodia country programme.
Education changes women's status  
Pouch Nai is 44 years old, living in Ang village, Rung Roeung commune, married and has 5 children. She is very happy to enroll her first daughter to study at University in Phnom Penh and send other children to high school. She is a Women Group leader. Apparently, Pouch Nai also knows about the importance of work and savings besides education. She tells women group members in the meeting "It is best to do some income generation work, instead of extending hand to others for help but to reach this what we need to do is to eliminate domestic violence or violence against women from our family and community".
In the past, Pouch Nai is confident that good education will bring and brighten up the future of her children's status. However, she had no source of income for managing home and sending children to school.
"To send my children to school, that seemed like a distant dream for me some years back as I did not have enough income for that. The condition is not the same, since I have joined the Women Agriculture Cooperative, Village Bank and received training on animal raising and took the loan from Cooperative and Village Bank including with my own money to begin pig and chicken raising besides doing rice planting. "Things have changed. I can speak with confidence in the group meeting and elsewhere. I make a good income; in the first year, I have net profit about US$1,800 per annum and the second year is about US$2,600 and in the third year it jumped to US$3,600. With increase in income, I have sent all children to school, bought handle tractor for plowing. The best thing is that I manage all my household expenses from my own income. My husband role is also enormous for my success. We work together to earn money. I suggest that if husband and wife work together success won't be far, said Pouch Nai".
Pouch Nai is an active women's group leader and she always supports and encourages women who are the victim of domestic violence to speak out and claim their right. Not just that, the group has brought these issues to present and discuss at the public events such as International Women's Days and Annual Women Forum for better intervention and solution from local authorities.  So now, the domestic violence cases have been solved in a peaceful way.
***
Women agriculture cooperative helps to eliminate discriminations
Chhay Sopheap, 53 years old, widow, is the president of Women Agriculture Cooperative in Horng Samnom commune, Aoral district. She was selected to be the president of Women Agriculture Cooperative in 2011. She is an active leader to manage and coordinate the cooperative. She is well known among the villagers. She said many other women have also acquired the skills of vegetable farming and animal raising.
She observes that the perspectives of men about women have been changed after the women began to earn by themselves. Now women do everything to what they can and men have started to notice about the impact of women's work in the group meeting and business. Men increasingly acknowledged that women can contribute to family income to a great extent and thus men give helping hands to what the women are doing.
"Until a few years ago, women had to borrow money from others even to save in the traditional group called "tong tin". There were bad rumors for women when they went out of the house and found some work by their own. It was more traditional for men to talk ill of those women who go to get the job outside the house. When Women: Hope and Growth project has started, it has changed women's status. This encourages men to change their perspectives about us. This is the reason why men do not talk ill of us these days. Instead they help us in what we do. The project has supported for forming women's group, agriculture cooperative and trained women for diverse knowledge and skills such as business, leadership, management, the issues of rights, domestic violence and its legal remedies. Moreover, it trained on pig, chicken and poultry farming, vegetable farming and then encouraged us to start small business. Besides, it also gave us the financial and technical assistance through which we have started business, said Chhay Sopheap".
Chhay Sopheap is a committed leader, busy in the voluntary work to be the president of Women Agriculture Cooperative and her various businesses, which are rice planting, pig farming and vegetable farming. She spends for her household management and for her children's education from what she earns from these businesses. She made an income of about US$2,200 from rice planting in a season and made US$ 500 from pig raising per annum and US$500 from vegetable farming. She added that the cooperative can operate well because of a good supporting and cooperating from all men in the committees as well.
***
All because of Women Empowerment Approach
Rorn Kakada is 22 years old, living in Doun Pech village, Pram Bie Mom commune, married and has one 10 months son. Kakada said that "I did not know about women rights related to violence against women. I wondered what it is. But when I received training on women rights and gender based violence, I knew about these issues for the first time. So now I am not only aware about my rights, I am equally experienced and concerned for the other sisters, daughters and women in my village. I make them aware of their rights when I talk to them".
Kakada is the active member in the women group. She always attends in women group meeting because she can share and learn new things from there and meet people. She said "We share joys, information on business opportunity, health, agriculture production, marketing and issues related to discrimination and violence against women. It is so interesting that we discuss about our issues and rights then find for the solution. It was not good that women knew nothing about their rights and also income-generation activities ".
Kakada is also the member of Women Agriculture Cooperative and took the loan from the Cooperative together to subsidize with her own money to open grocery shop for 6 months.  She said that "I learn about the business plan and calculate all the investment money and income. Now I know a profit is what comes after deducting cost price including my own precious time and labor from sale price. I make net profit about US$5 per day from this business and hope in the future my shop will grow and have more things to sell.  Moreover, now I have been doing things with confidence and always want to learn a new thing that is the result of joining women group and Women Agriculture Cooperative in the project of Women Hope and Growth".
***
Benefit from joining the community development group
Ly Nak is 54 years old, living in Doun Pech village, married and has three sons, two got married and one son is living with her. She has joined Village Bank and Women's Group for three years now. Ever since she got into this group, which is the part of Women Hope and Growth project, she has been doing various things such as regular attending group meeting and giving and taking counseling besides saving regularly. Ly Nak was equally illiterate about community development group. She had the feeling that getting into the group could be waste of time. Saving was out of the question, she was struggling to have her family needs meet.
Things began to change for her in 2011 when Life with Dignity Area Program staff formed a community development group, in which she also became the member. Then in 2011, the project made efforts to make the same group active. With this, Ly Nak came to understand the importance of group and benefit of saving culture. Now she cannot do without saving. She knows virtually everyone in the village and talks a great deal and also listens to others.
Ly Nak has received training on vegetable farming and animal raising among others. Following this, she and her husband and her son start to plant vegetable farming in the small land that could supply water from small irrigation system in the village by using the loan from village bank. So far, they have sold tomatoes, cucumber and water melon and made an income of about US$250 in season besides rice planting. All three are happy to see vegetable farming business bringing profits. Apart from this, she has also raising pigs which are bringing her good income as well. From this result, her son can study in high school and university. Three year along association with groups has made Ly Nak's belief to continue with the project in the future.
Related posts