Nepal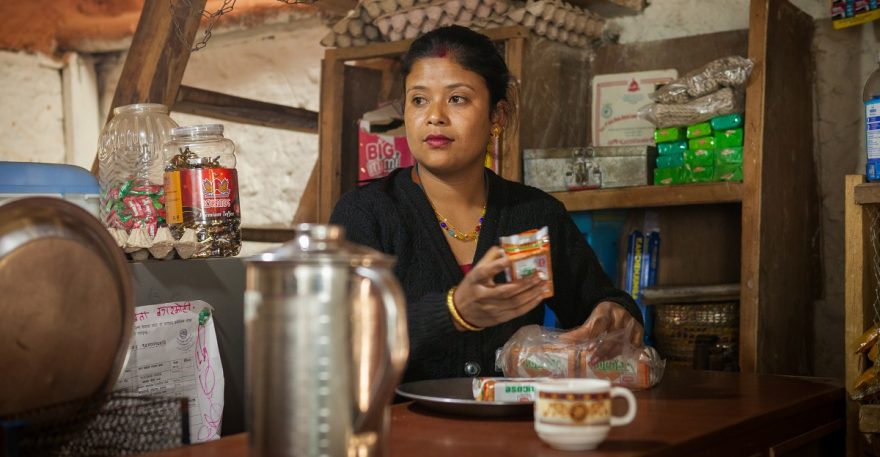 In Nepal, we support women's vocational training and entrepreneurship and have several large women's cooperatives. We also work against gender based violence in the country.
Nepal is located between India and China. The Himalayas cover half of the landmass, which poses its challenges. The country has 29.7 million inhabitants, and 72 percent
of the workforce works in agriculture.
Women's Bank has operated in Nepal since 2008. We support women's cooperatives and business training. Our work encourages women's participation in the decision-making in their communities and ensure their rights to education and sustainable livelihood. With the support from Women's Bank, farming has been made more diverse, small business operations have been developed and vocational training provided.
Results 2021
10,066 women benefitted from our work
Last year, Nepal suffered from heavy monsoon rains and the Covid-19 pandemic. Strong cooperative funds in particular served as a buffer for women's livelihoods.
In the Sindhul region, women's income levels have risen by almost 10% and no family is dependent on external aid anymore. In Lalitpur, women's monthly savings in the cooperative fund more than doubled in the two years of the pandemic to nearly seven euros. 
The results indicate that long-term work to improve women's livelihoods creates sustainable structures.
7,730 members in 20 cooperatives. 
1,156,882 euros in capital for cooperatives. 
631 companies, 176 of which were founded last year.
Related posts