Nepal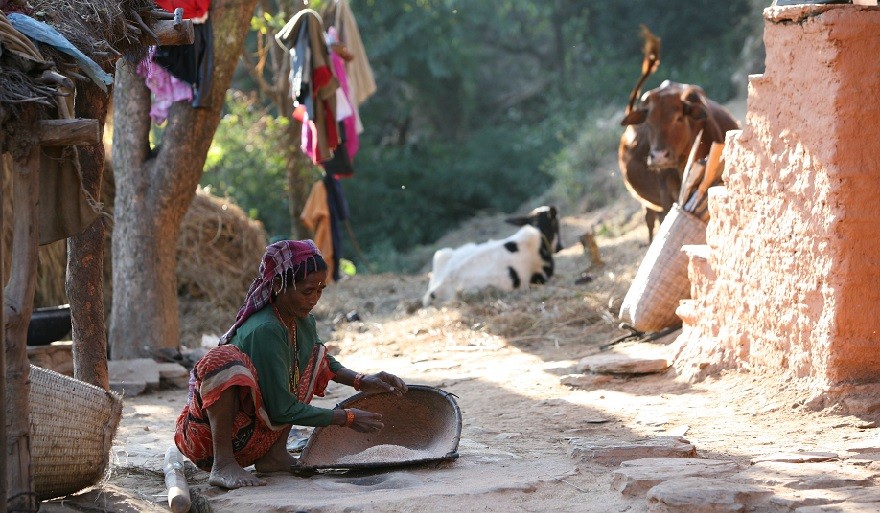 Development project for women entrepreneurs.
Development project for women entrepreneurs
The socio-economic position of women in Nepal has traditionally been weak. The possibility for women to participate in decision-making, both within the family and in society, have been limited. Land ownership, capital, education and technology have been beyond the reach of women. Entrepreneurial activities run by women are typically on a micro-scale and invisible. In consequence they frequently goes unnoticed by both national and development organisations.
The Women's Bank project is concentrated on the rural areas of Kanchanbur and Lalitpur. The women taking part in the project belong to different under-privileged minorities in their own communities – they are caste-less, landless and/or the sole supporters of their families.  They have also suffered from the political unrest which has continued, occasionally with extreme violence, in Nepal over the past ten years. This has disrupted education and reduced employment and earning possibilities, with long-term ramifications even though the situation has improved.
The project financed by the Women's Bank focuses on the independent earning projects of women's groups and through this on the socio-economic empowerment of women within their own communities. The three-year project develops the professional and entrepreneurial skills of women and creates new small businesses run by women, initially organised into local entrepreneur groups and later into regional network co-operatives, Co-operatives are generally set up by four entrepreneur groups, each comprising 25 women; these entrepreneur groups also engage in savings and loan operations. By organising themselves in this way they can ensure that new entrepreneurs receive sufficient support and training via the joint network; they are able to help in establishing marketing contacts and channels and in organising start-up and growth finance for entrepreneurial operations.
Improving the financial position of women presupposes that women are aware of their own rights and are encouraged to take advantage of these. The community operating model already helps to increase women's self-esteem and their possibilities for making their voice heard but the programme also includes advice on women's rights and peer group activities. All the available methods are inter-active and thus promote empowerment.
The aim is to create 600 new women-run enterprises during the life of the project. Some of these operate in agriculture-related branches and in the further-processing of agricultural production and some provide services needed by the organisations in line with local demand. New entrepreneurial activity requires local materials and raw materials, services as well as labour so that indirectly the project improves the livelihood of some 2 000 families and reaches some 10 000 people.
The responsible implementation of the projects lies with the Lutheran World Federation Nepal country programme; local organisational implementation is the responsibility of the Nepalise Society of Local Volunteers' Efforts.
I want to be an example for all, says Ganga
"Time is money. One who doesn't respect and understand the value of time will never succeed in life, so, I value every minute of my life," says Ganga Tamang of Bhardeu VDC, who became an entrepreneur from a common woman.
Shy and soft spoken Ganga got married at the age of 17. She faced numerous challenges from the day she married as she had to look after the household with limited income. She did not have any qualification or education to be involved in some job.
"I used to think if I were educated my life could have been better. I always regret for not being able to attend school," says Ganga, who was born in a poor family.
Her life changed after SOLVE Nepal, one of the Implementing Partners of LWF Nepal, started 'combating poverty and gender injustice through cooperatives' program in Lalitpur district targeting poor and marginalized women.
The program raised awareness about micro enterprise and supported poor women to take part in income generating activities. The project is being implemented in Lalitpur district with support from Women's Bank Finland through Finn Church Aid.
Ganga also got chance to participate in the program. The program helped women to form groups and develop the habit of saving regularly. She even became the member of the cooperative. The project not only helped Ganga to learn about micro enterprise but she was able to get training on pig farming. The pig farming changed her life. She took a loan of NPR 15,000 (approx 120 euros) and bought 3 piglets. She sold them on profit and paid her loan back on due time. It gave her confidence to expand the work. She again took loan of NPR 50,000 (approx 400 euros) and raised 36 pigs.
She says, I am getting a minimum of 10/12 thousand rupees (approx 80-100 euros) profits from the sale of one pig. Today along with pigs, she has 5 goats and 2 calves. She even sells bacon (pig meat) on contract basis in Kathmandu. She makes an annual transaction of NRP 400,000 to 600,000 (approx 3,200 to 4,800 euros) from pig farming and contract base meat selling. After using some money on household activities and children's education she saves the remaining in the cooperative.
"The program brought so many changes in my life. I have been living a better life now. I never imagined this would happen. The literacy class helped me to calculate my profit and investment. I have already paid back the loan of 50 thousand rupees and now I plan to raise 50 to 60 pigs and be an example to all. I am so satisfied and content with my life now," says Ganga with confidence in her voice.
Related posts