Nepal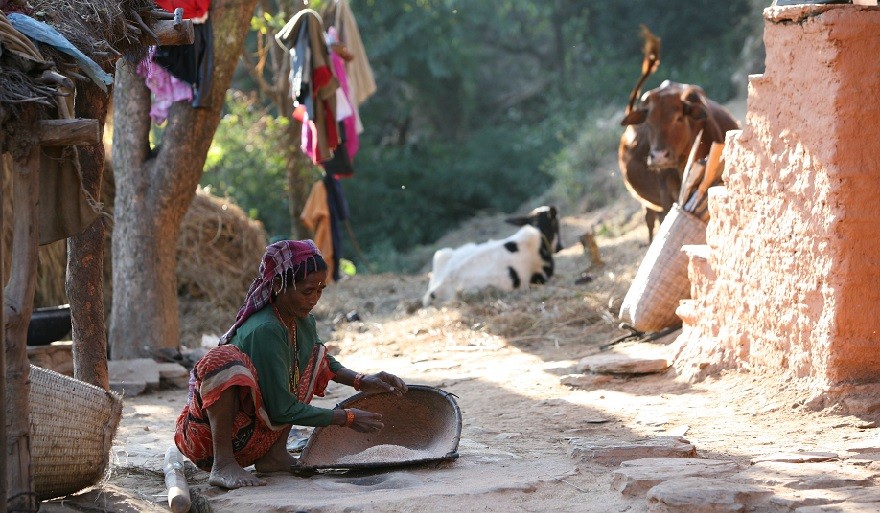 Development project for women entrepreneurs.
10,386 women benefitted from our work
NEPAL IS LOCATED between India and China. The Himalayas cover half of the landmass, which poses its challenges. The country has 29.7 million inhabitants, and 72 percent
of the workforce works in agriculture. Women's Bank has operated in Nepal since 2008. The work aims to encourage women's participation in the decision-making in their
communities and ensure their rights to education and sustainable livelihood. With the support from Women's Bank, farming has been made more diverse, small business operations have been developed and vocational training provided.
Women's Bank had two projects in Nepal in 2019. The three-yearproject Socio-economic empowerment of disadvantaged women and girls in the Lalitpur area concluded as planned. The operations will continue under a three-year continuation project.
The project was carried out in 12 mountain villages, with a budget of 450,000 euro and 4,600 direct beneficiaries. The project bolstered women-led cooperatives promoting women's social and economic rights and their opportunities to earn and save money. During the project, entrepreneurship and vocational training were organised, e.g. in growing kiwis and producing organic compost.
12 cooperatives participated in the project, creating their own business plans and developing different forms of saving and loaning activity. All cooperatives also ran a subcommittee against sexualised violence.
Promoting Women Employment through Sustainable Access to Finance and Business Skills is a-three-year project (2018-2020) in the Dudhauli and Kamalamai municipalities in the Sindhuli District. The project budget is 532,000 euros, and it will improve the lives of 2,500 women. Over 7,000 people are estimated to benefit indirectly.
In 2019, women were given entrepreneurship and vocational training, e.g. in keeping livestock, crop production, and producing compost.
One of Women's Bank's volunteers donated their business skills to the Nepal projects for about a month through the Skills Donation programme.
Related posts