Uganda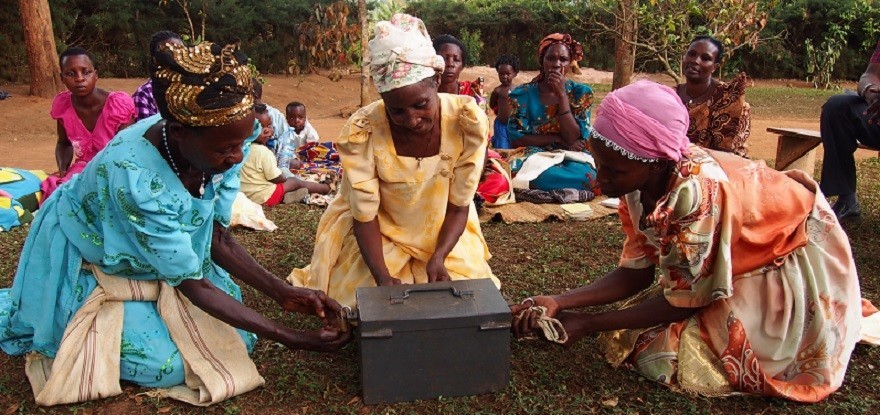 Women's Bank supports savings and loan groups in Uganda.
9,346 women benefitted from our work
UGANDA, POPULATED by 42.9 million people, is located in East-Central Africa. The most important source of livelihood is agriculture; approximately 70 percent of the workforce works in agriculture.
Ugandan women participate in business life more than women in similar countries, however, only 16 percent of agricultural businesses are owned by women, and merely 7 percent of the women own land.
Women's Bank has operated in the country since 2007. The aim is to support women's small businesses through saving and loan groups and entrepreneurship training. Women's Bank had three projects in Uganda in 2019 and is launching a new social enterprise.
Women's Income Generating Support project concluded in 2019. The project was set to decrease the poverty of families of low-income women and increase their access to food and fulfilment of basic needs.
The three-year-project had a budget of 300,000 euros, with 4,800 beneficiaries in 9 towns. Saving and loan groups offered entrepreneurship training for girls and women, as well as the opportunity to utilise their new skills in running an agricultural business.
Empowering Women and Girls to excel in businesses in informal settlements/slums is a three-year project (2018-2020). It helps girls and women in extremely vulnerable contexts to participate in saving and loan groups. They also receive training in management, and support in participating in their communities' decision-making.
The project budget is 660,000 euros. It will improve the lives of 3,000 women, and with their families included, benefits 6,000 people's lives.
Women in Development Project for Yumbe district, Uganda is a three-year project (2018–2020), with a project budget of 630,000 euros, and 1,200 women taking part.
The main aim is to promote the well-being of the women in the refugee districts of Yumbe and Arua in the rural area of North-Uganda. The operation will strengthen the women's ability to launch, plan and manage businesses. They are also being supported in saving and loaning money and in participating in the decision-making related to their own health and welfare.
Two Skills Donation volunteers visited Uganda in 2019 to support the projects.
In 2019, Women's Bank decided to expand the operations in Uganda by establishing a social chicken farm enterprise near the capital Kampala. The chicken farm will provide indirect employment to hundreds of people. The goal is to increase the well-being of people, the environment and the animals. The building of the chicken farm began in spring 2020.
Related posts