Uganda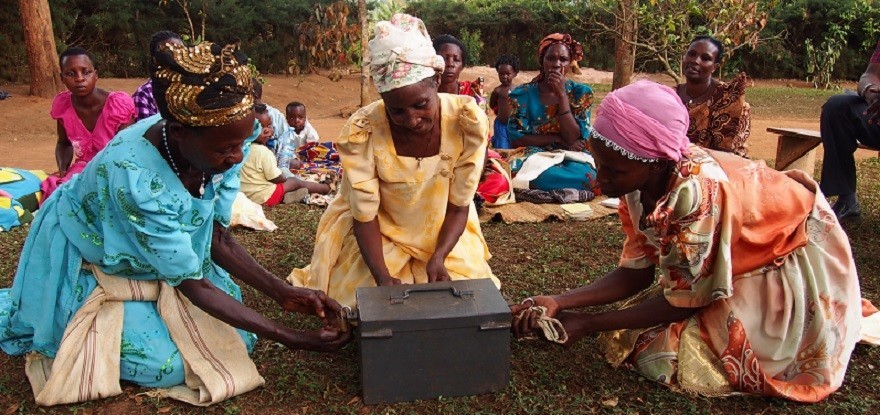 Women's Bank supports savings and loan groups in Uganda.
Uganda savings and loan groups
The Women's Bank has so far financed the operations of 36 savings and loan groups in Sembabule which has the highest HIV figures in Uganda. Some 20 per cent of the population has been diagnosed HIV-positive whereas the average for the country as a whole is less than 8 per cent.
Savings and loan groups are the Ugandan version of village banks. The majority of Women's Bank-supported groups are made up of HIV positive women and to some extent men. They have been set up on the basis of former "self-help" groups, which aimed at encouraging HIV-positive persons and their immediate dependents to lead a full life and to assist them e.g. in purchasing medication.
Ten groups have been formed by aids-support personnel. These are men and women who, after a year's training are responsible for monitoring the HIV and Aids situation in their own community, for encouraging members of the community to be tested, for supporting persons suffering from the disease and their families, for taking particular care of orphaned children, for assisting people in earning a living and for providing all the advice and guidance needed by families suffering from aids.
When they come within the Women's Bank support circle the groups are already organised; they have drawn up guidelines for the group and have a basic knowledge of savings and loan operations. They have also begun to save and to develop joint projects aimed at earning a living for the group. Joint group projects are often cultivation programmes; the harvest of fields cultivated co-operatively is sold and the income transferred to the group's capital, which is then distributed to group members in the form of loans. Loans taken by individual members help the member's family to earn a livelihood of and are used, for example, to buy fertilizer for coffee bushes, to purchase fattening livestock and to set up small shops.
Groups have received an average of 600 euros additional capital from the Women's Bank to start group projects to purchase small domestic animals and seeds. The groups have then received encouragement and advice on making independent choices for their own activities.
Basic entrepreneurial and agricultural training is also available since most of the group's livelihood is directly or indirectly related to agriculture. There are no plans to increase the number of groups. However, during 2010, the final year of the project, efforts were  directed towards ensuring the continuity of the groups, training supporting various forms of livelihood and the development of inter-group co-operation.
By the end of the year 2009, the Women's Bank had supported 30 girls who had completed a seamstress course to acquire the basic equipment – a sewing machine and a small supply of fabric – needed to set up sewing workshops. Their entrepreneurial development is being monitored and supported over a two-year period and they will be directed to savings and loan groups. Many of the girls are the principal guardians of their siblings after the death of one or both parents from Aids.
The Uganda livelihood project is part of the Finn Church Aid's HIV/Aids project among communities in the Sembabule region and is implemented by the Lutheran World Federation Uganda country project.
Related posts